cairo by day
15. April 2015
It has been a while we have seen Cairo by day.
Now we do invite you on a small visual journey through downtwon Cairo and Zamalek island.
The city did change since 2013, the last time we have been there. A bit less anarchy,  more security personal on the streets… same chaos in the traffic and a daily helicopter hovering around checking for uprest. The murials in memory of the people who died during 2011 and 2012 are still there on mohamed mahmoud street, as is a lot of other art in the streets.
Cairo continious to be very safe in the matter of crime compared to any other city with more than 1 Million inhabitants (estimated number for Cairo: 18 Million).
Enjoy the ride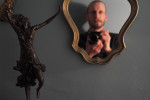 Previous post Paris – from Cairo with love
Next post Halfpipe action in the Rheinaue Bonn