Curfew-Ausgangssperre
21. Oktober 2013
english below
Kairo ist ein Jungbrunnen,
Man hat das Gefühl wieder 16 zu sein, nicht wegen der guten Luft, vielmehr aufgrund der strikten Ausgangsbestimmungen.
Ja Mami, ich bin um 24:00 zu Hause, Freitags schon um 19:00.
Komisch wenn erwachsene Menschen um 23:30 fast schon nervös werden und anfangen ein Taxi zu suchen.
Wisst Ihr, es gibt Wege daran vorbei, man wird nicht direkt erschossen wenn man später auf der Strasse ist und solange Du in Deinem Viertel bist, kannst Du Dich schon bewegen. Wer die Strassensperren kennt kommt auch über den Nil. Die Strassen leeren sich trotzdem schnell und der sonst ewig brodelnde Vulkan erstarrt.
Ekonomisch ist es durchaus eine Katastrophe, Menschen verlieren Arbeit, Geschäfte bleiben geschlossen, Touristen sind abgeschreckt.
Für den Schlaf der Kairoer ist es jedoch ein Wunder. Es gibt Menschen die auf einmal um 7 Uhr morgen aufstehen können, vorher hat man sie kaum vor 13:00 erreicht.
Und man kann auf den Strassen Fussball spielen, schade das gerade keine anderen Skater zur Hand sind.
Das Leben geht weiter und auch wenn viel Streetart übermahlt wird, so kommen doch auch immer neues dazu und die Musik hört nicht auf zu spielen.
Cairo, a fountain of youth.
You get the slight feeling of beeing 16 again, not because of the good air, because of the strikt rules when to be home again.
Yes Mum, I will be home at twelve, fridays at seven.
A little strange if grown ups are getting nervous at 11:30 and start looking for a cab.
You know, there are ways to stay out longer, you do not get shoot at sight and as long as you are in your neighborehood you can quite freely walk around. Those who know the roadblocks get pass the Nile, but never the less, streets empty quickly and the always boiling vulcan freezes.
Economicaly it is a desaster, people loose their jobs, stores stay closed, tourists are scared away.
For the sleep of Cairo it is a miracle. Suddenly there are some who can wake up at seven, before you could hardly reach them before 1 pm.
And you can play soccer on the streets, a pity no skaters to hand right now.
Live goes on and even if a lot of streetart gets painted over still new ones are popping up and the music keeps on playing.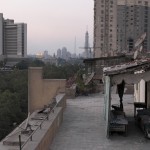 Previous post Back in the big bad City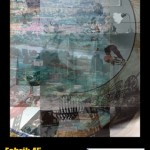 Next post exhibition Gold und Rueben