Skateboard on Christian grounds in Egypt
19. Oktober 2015
If you want to skateboard or roll transition in Egypt, you have to go to the christians
This is as far as I know a fact, well I think there is a pipe in El-Gouna, but that might be another story.
So we went, twice.
Last Friday we went to Beit Elwadi, somewhere between Cairo and Alexandria. The whole place is a compound where kids go to camp and have, for example, father-son days.
It is filled with sports attractions, sleep-over bungalows and, of course, venues for holy ceremonies.  It was supposed to be the day Skateboarders, BMXers, Motocrossers, Clowns… Everyone For Jesus should have come from all over the world to celebrate the power of Jesus. Malesh! Someone mixed-up the month and we arrived one too early…Welcome to Egypt.

Anyway, we were greeted with very friendly attitudes and allowed to Skateboard and BMX the only concrete bowl you can find in Egypt. Quite well done, other than you have no coping anywhere except in the deep-end. We had the bowl to ourselves the whole day, no kids came over to play.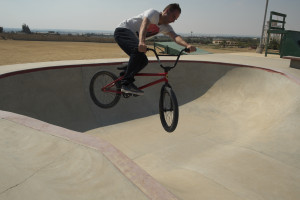 Yesterday, John P. and I went on a mission to the holy churches masoried into the Muqattam mountain in Cairo, the Monastery of Saint Simon. Located next to Garbage City, where the trash of Cairo is collected and sorted to be recycled in an urban neighborhood, a bunch of churches have been constructed in the last 25 years and a former trash dump became a quiet and green fortress for, well, Christianity. Quite a contrast after walking the rather smelly streets until the gate.

Behind the gate, hidden between a cave church and a soccer field, we found a mini mini-ramp and a bunch of kids very eager to skateboard. It is good to see that nobody over there assumes skateboarding is an evil thing, otherwise, we might have ended up in one of those exorcisms the place is famous for, even Muslims come to get their obsessed ones exorcised.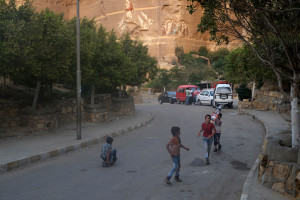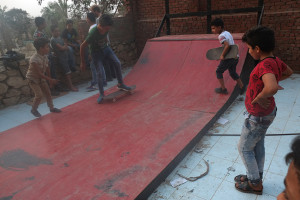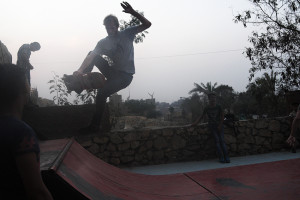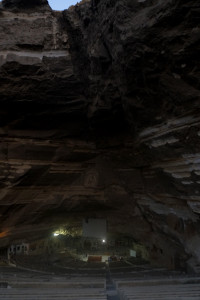 So far for the skateboard adventures. Stay tuned and pray for more ramps… If you feel like it … 🙂
http://www.ripserve.com/perkins/
https://majawadin.wordpress.com/
Previous post Bar Schleppnetz save the world
Next post BundeskunstHALLOFFAME