Time is precious
4. Januar 2016
Pictures, especially analog ones always take you on a timetravel.
With the colour darkroom finaly in effect the last 16 years of cross photography slowly come to live and with them the not so new idea…time is precious.
In the negatives a lot of people appear who joined my live, some passed it and went on and some even passed away, will never to be met again.
Happy to rember through this snipples.
RIP O.T.  .. brother from a different mother.
Enjoy the time you have with the ones you love,…in 2016 and allways.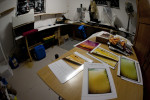 Previous post "In jeder Wüste eine Blume" Photokalender 2016
Next post Drop into the Pissrinne