Viertelbar Concert – Analogue Birds – Archer and Tripp
13. Dezember 2015
A music dream journey at Viertelbar Concerts on the township
Thank God it was Friday, raining and dark. Time for music.    
Viertelbar Concert did find for us, the unexpecting audience, two bands that took us on a jounrney to new earadises. Archer and Tripp tuned us with sounds taking us away to a place where things are all right and all you have to do is to dream. Do not ask me how you name this sound…… some how spiritual… maybe. They call it Ambiente, Percussion, Easy Listening, Meditation and Polyrhythm. Nobody wanted them to leave the stage, so Analogue Birds took the township stage at the way later then planed.
But who needs plans with music anyway. It is about enjoyment, so after the chilled first performance the sitting and dreaming went to standing and dancing when Analogue Birds started their …what..? I I do not know to call that either. Let us stay with how they name it as well, Internatural NuBeatz.
Words can hardly describe the pushing sound anyway. Happy faces, moving bodies and a handful of bonus songs long after the concert should have been over do tell you more. How many hours of playing altogether … four? Yes, I guess.
But stop….not over jet… how about three more songs in a jam mode, both bands and a guest musician,..to tune out nicely.
Thank you for the music.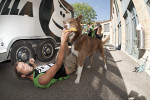 Previous post Gorilla Trainer
Next post himmlische Lieder bei Baumwelten