World Beat Train
29. November 2015
"World Beat Train" –

Riding the tracks never been more true
9 Years of World Beat Party climaxed in a World Beat Train and it was nearly full moon
Bonn, never the less it just USED to be capital of Germany, is very international. Every country left someone here and now with the UN in town and a lot of international NGO's this did not become less. Not to mention 33000 students from all over the world.
So no wonder the World Beat Party organised by Taxi MunDJal MusiX is giving the town international tunes for allready 9 years now, climaxing in a World Beat Train last friday.
We all now the atmosphere of beeing on a ship on our river Rhine, cruising and dancing, but most of us never been on a train cruising and dancing.
Similarities? Well….both bring along…once your on it is hard to get of and it is a closed community for the matter of time. But, a ship does move slowly and consistant, a train a-and decellerates for about 200 time on a track of 3 hours or roughly 50 km. Makes you want to move the dancing feed and maybe grab on something or someone for stability. And, unfortunatly, there is no railing you can drop your beerish water, you have to wait for the toilet stops…makes you dance more. No one peed himherself…more stops next time. Great time:) Thank you Darius Darek and Ali T for the tunes that made the train bump.
Werner and Martin, taking care of driving the train and providing toilet acess on the stops have been cooler then cool,… well very warm, funny and helping. Thank you guys and the SWB for making that possible and that we have been allowed to have a Früh drink on the train:)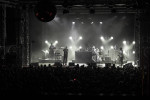 Previous post Fat Freddy's Drop Ing Beats and Vibes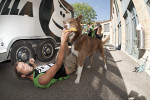 Next post Gorilla Trainer