May I May dance first at Oscar Romero?
9. Mai 2016
Tanz in den Mai – dance into the first of may
Allways happy to see how much love people put into making themselfs and others happy for the first of may….. not talking about putting dead trees in front of their lovers house but creating a wonderfull, colourrich, friendly world for their friends, buddies and strangers to get the feet dancing into the first of may. I do not know how others felt…but heaven yes….it did make me forget the rain, the pain and praise the gain. Thanks again…. Oscar Romero Haus – RhizomBonn – Dojo – DJane's – creators and creatures. Love!
Immer glücklich zu sehen wie viel Liebe Menschen dahinein geben sich selbst und andere zum ersten Mai fröhlich zu machen. Das Wort ist nicht davon tote Bäume vor die Häuser ihrer Liebsten zu stellen, sondern eine wundervolle, farbenreiche, freundliche Welt zu schaffen für ihre Freunde, Bekannte und Fremde. Die Füße zum Tanzen bringen in den ersten Mai. Ich weiß nicht wie andere fühlten, aber Himmel ja, es ließ mich vergessen den Regen, den Schmerz des Leben und gab mir Segen. Danke nochmals Oscar Romero Haus – RhizomBonn – Dojo – DJane's – Kreatöre und Kreaturen. Liebe!
enjoy the gallery………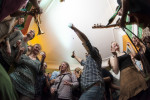 Previous post Gypsy Ska Orquesta meets Rhizom