once in a time – there is CLUB PISSRINNE
8. Oktober 2013
It is not very well preserved who started it, might been the Hutmachers back in the days, around christmass, who knows,….but still it is going on and on:
CLUB PISSRINNE
the only real underground spot in Bonn. Might be a junky/gangster/hobo place most of the time, but once in a while someone comes along, piles in a hell lot of water and accid, puts up some speakers and here we go.
Police never realy knows how to deal with that, music is turned down a bit and on it goes.
This time there was a great innovation on how to put up the speakers, making more out of that tunnel.
thanks to the buddies who kicked it this time, great fun. Video might come soon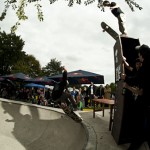 Previous post owl bowl contest 2013 – Cologne